Cathay Pacific Cathay Pacific
Airbus A330-300
(New two class)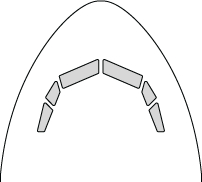 Comments
The Airbus A330-300 Business Class has new 180-degree lie-flat beds and 15" monitors. Arranged in a diagonal (herringbone) layout, each seat has direct aisle access so passengers don't have to climb over anyone. Many passengers have noticed the much slower meal service due to the herringbone layout. Note that the left aisle has double the traffic since the egress for the A and D seats are via this aisle, but the seats are positioned better for passengers traveling together to carry on conversations across the aisle.
State of the art in-flight entertainment (IFE) systems that offer Audio and Video On Demand (AVOD) in both classes features 50 movies, more than 100 TV shows, 160-plus CDs, 22 radio channels and up to 96 games. There are also universal AC power outlets available at every seat.
For coach passengers, beware that the window and aisle seats may have IFE equipment mounted under the seat, taking up valuable legroom.
The design and layout of the cabin means that there is significantly less traffic on the right aisle.
Legend
| | |
| --- | --- |
| | Above average |
| | Mixed reviews |
| | Below average |
| | Beware |
| | Average seat |
Place cursor over a seat to view seat-specific comments.
| Cabin | # Seats | Pitch | Width |
| --- | --- | --- | --- |
| Business Class | 41 | 78" | 20" |
| Economy Class | 223 | 32" | 17.5" |
// include footer. show_footer( $printable ); ?>