Cathay Pacific Cathay Pacific
Boeing 747-400
(Standard version)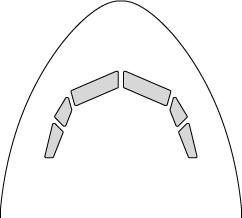 Lower Deck

Upper Deck
Comments
Cathay's entire fleet is equipped with personal video screens at every seat, featuring Studio CX, Cathay's In-Flight Entertainment (IFE) system. There are more than 20 video channels in all classes, plus AVOD (Audio/Video On Demand) service on 10.4" screens for First and Business Class passengers on all long-haul flights.
Coach passengers have to make do with non-AVOD personal screens.
Beware
that there are IFE equipment boxes underneath the B and J seats, as well as the middle seats in the center block in coach, taking away valuable legroom. Reports from passengers indicate that the IFE hardware also protrudes into the aisle and window seats as well. Unfortunately, Cathay's seatback screen position is so low that it is difficult for anyone taller than average height (5' 9") to sit low enough in the seat to view the screen. This low screen location also gets in the way of using a notebook computer in the coach seats, since the notebook screen is blocked by the IFE screen and cannot be opened fully.
Most passengers prefer the upper deck for its private feel, and for the exclusivity since very few people get to fly on the upper deck of the Boeing 747.
Legend
| | |
| --- | --- |
| | Above average |
| | Mixed reviews |
| | Below average |
| | Beware |
| | Average seat |
Place cursor over a seat to view seat-specific comments.
Cabin
# Seats
Pitch
Width
First Class
12
79"
22"
- Notes: 180-degree Full-flat sleepers
Business Class
47
60"
20.5"
- Notes: Slanted flat sleepers with 171 degree recline
Economy Class
324
32"
17.5"
// include footer. show_footer( $printable ); ?>