Cathay Pacific Cathay Pacific
Boeing 777-300ER
(Version 1)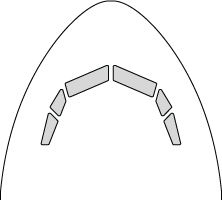 Comments
The Boeing 777-300ER is Cathay Pacific's newest plane, joining the fleet in late 2007. First Class has large luxury suites with a three-foot wide bed and 17" monitors. Even Business Class has 180-degree lie-flat beds and 15.4" monitors. Arranged in a diagonal (herringbone) layout, each Business Class seat has direct aisle access without having to climb over anyone. The new Coach seats are in their own shell; the cushion slides forward when reclined and does not intrude into the passenger's space behind the seat. Coach passengers have a very nice 10.4" seatback screen that is mounted high, behind the headrest area of the seat in front. The screen is positioned so even tall passengers can comfortably see the screen.
State of the art In-Flight Entertainment (IFE) systems that offer Audio and Video On Demand (AVOD), featuring 100 movies, more than 500 TV shows, 888 CDs, 22 radio channels and over 70 games are located in all three classes. There are also universal AC power outlets available at every seat.
Legend
| | |
| --- | --- |
| | Above average |
| | Mixed reviews |
| | Below average |
| | Beware |
| | Average seat |
Place cursor over a seat to view seat-specific comments.
Cabin
# Seats
Pitch
Width
First Class
6
81"
36"
- Notes: Luxury suites with 180-degree bed
Business Class
57
78"
20"
- Notes: Full flat sleepers seats
Economy Class
238
32"
17.5"