Cathay Pacific Cathay Pacific
Boeing 747-400
(New long haul seats)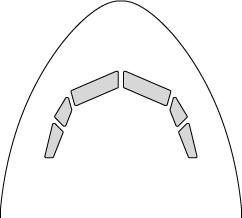 Lower Deck

Upper Deck
Comments
The Boeing 747-400 airplane is the flagship of Cathay Pacific.
First Class has large luxury suites with a three-foot wide bed and 17" monitors. Even Business Class has 180-degree lie-flat beds and 15" monitors. Arranged in a diagonal (herringbone) layout, each Business Class seat has direct aisle access without having to climb over anyone.
Reports also indicate that with the removal of the upper deck storage bins along the side of the fuselage, the Business Class seats on the upper deck are 6-7 inches longer than those on the main deck, giving you much more room to stretch out.
Cathay's entire fleet is equipped with personal video screens at every seat, featuring Studio CX, Cathay's In-Flight Entertainment (IFE) system. There are more than 20 video channels in all classes, plus AVOD (Audio/Video On Demand) service on 10.4" screens for coach passengers on these long-haul flights. There is also universal AC power outlets available at every seat.
Beware
that there are IFE equipment boxes underneath the B and J seats, as well as the middle seats in the center block in coach, taking away valuable leg space. Passenger reports also indicate that the IFE hardware might also protrude under the aisle and window seats as well.
Legend
| | |
| --- | --- |
| | Above average |
| | Mixed reviews |
| | Below average |
| | Beware |
| | Average seat |
Place cursor over a seat to view seat-specific comments.
Cabin
# Seats
Pitch
Width
First Class
9
81"
36"
- Notes: Luxury suites with 180-degree bed
Business Class
46
78"
20"
- Notes: Full-flat sleepers seats
Economy Class
324
32"
17.5"