Emirates Emirates
Airbus A380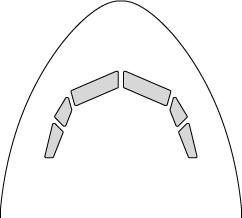 Lower Deck

Upper Deck
Comments
The Airbus A380 is the flag-ship of the Emirates fleet, and the largest passenger plane in the world. Every seat is equipped with state of the art
AVOD
(Audio Video On Demand) In-Flight Entertainment system.
First Class
has luxury suites with full-flat bed, mini-bar inside the suite, and 23-inch video screen along with privacy doors. Two luxury lavatories with showers are available for First Class passengers to refresh themselves.
Business Class
also features full-flat beds, every seat faces forward, and has direct access to the aisle due to its staggered layout. A 15-inch monitor provide video entertainment and the in-seat mini-bar stocks soft drinks, while a full on-board bar is located at the rear of the cabin.
Note:
that the aisle seats (
B, D, G, J
) have the least pitch, as well as the shortest bed at 70 inches. The other seats (
A, E, F, K
) have 9-inches more pitch to allow space for aisle access, the beds are therefore longer at 79 inches. The best seats for couples are the center two, seats E and F; and the best seat for individual passengers are seats A and K with the window view, side storage bins along the fuselage, and a very private feel.
Economy Class
is located on the main deck, relatively wide seats and AVOD provide passengers with a comfortable flight.
Legend
| | |
| --- | --- |
| | Above average |
| | Mixed reviews |
| | Below average |
| | Beware |
| | Average seat |
Place cursor over a seat to view seat-specific comments.
Cabin
# Seats
Pitch
Width
First
14
86"
23"
Business
76
39-48"
18.5"
- Notes: Full flat bed is 70" long for aisle seats, and 79" for window and inside seats
Economy
399
32"
18"
// include footer. show_footer( $printable ); ?>