Emirates Emirates
Boeing 777-300
(Two class)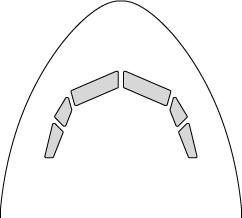 Comments
All seats on this Boeing 777-300 plane are equipped with individual video screens for in-flight entertainment.
Emirates packed in a very tight 10 across seating in coach, whereas most other airlines install a much more spacious nine seats across. With only average pitch on this configuration, this is probably one of the worst Coach Class configurations for passengers. The aisles are also noticeably narrower in order to accommodate the extra seat and those seated at the aisle are more likely to be bumped as people and carts pass through.
Note that there are no power ports currently installed in any of the seats in any class.
Legend
| | |
| --- | --- |
| | Above average |
| | Mixed reviews |
| | Below average |
| | Beware |
| | Average seat |
Place cursor over a seat to view seat-specific comments.
| Cabin | # Seats | Pitch | Width |
| --- | --- | --- | --- |
| Business | 49 | 43" | 20.5" |
| Economy | 385 | 34" | 17" |
// include footer. show_footer( $printable ); ?>