Air France Air France
Boeing 777-300
(ER)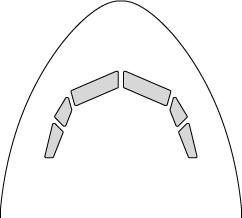 Comments
Air France has been adding the Boeing 777-300 ER to its long haul fleet, gradually replacing the older Boeing 747-400.
First class on this Boeing 777-300 ER features 8 luxury full-flat sleeper suites, while a large Business Class section is equipped with slanted flat sleeper seats. Most knowledgeable Business class passengers prefer the smaller forward Business class cabin, as it receives meal service first, and has a more quiet and intimate feel.
Note that normal meal service for the main Business Class cabin started from the back (row 12), and moves forward. So those in rows 5 and 6 might not receive their first choice of meals.
Air France has completed conversion of the Economy class cabin to fit 10 across seating, making the aisles very narrow and a cramp feeling in the cabin. The best seats in coach are the pairs of seats at 31 KL, and 44-48 AB and KL along the rear of the fuselage since there is no middle seat.
AVOD (Audio Video On Demand) is installed at every seat, however, some of the planes have older version of the AVOD with a small entertainmentn section. The newer version of the AVOD has much more extensive entertainment choices, but there is really no way to tell which AVOD version is on your flight in advance.
All First and Business class seats have 110V universal power outlet installed.
Note: dynamic seat comments will be added in the near future.
Legend
| | |
| --- | --- |
| | Above average |
| | Mixed reviews |
| | Below average |
| | Beware |
| | Average seat |
Place cursor over a seat to view seat-specific comments.
| Cabin | # Seats | Pitch | Width |
| --- | --- | --- | --- |
| First class | 8 | 79" | 24" |
| Business class | 67 | 61" | 21" |
| Economy class | 250 | 31-32" | 17" |
// include footer. show_footer( $printable ); ?>