Swiss International Swiss International
Airbus A340-300
(Three class)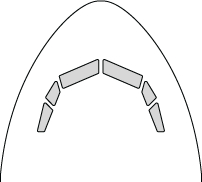 Comments
The Airbus A340-300 is the flagship of the Swiss fleet. These four-engine long-haul aircraft have a range of over 6,700 miles, and have replaced the older Boeing MD-11 aircraft.
First Class:
Lie-flat sleepers, every seat is either an aisle / window seat or both.
Business Class:
Even though the angled lie-flat seats are the latest Business Class seats in the Swiss fleet, many travelers do not like them. The 167 degree angle is just not flat enough to be comfortable, and many complain of their body sliding while their clothing stayed more or less in one place, the (in)famous wedgie seat effect. Some travelers have found a trick to make the seat work better: Recline into the full lie-flat position, reduce the recline of the seat back a little bit, and then raise the legrest using the legrest button; you will end up with a flatter recline angle.
Some cabin crews even suggest foregoing the lie-flat position, and set the seat to a lazy-recliner instead, jokingly mentioning that it is to avoid finding yourself sliding to the floor during your sleep, and in danger of being run over by the service carts.
The forward Business Class mini cabin has only two rows, and are usually reserved for Swiss' best frequent flyer members. However, there are some reports that row 5 is less spacious than the bulkhead row 4. In general, the center block of seats are more desirable, since they each have direct access to the aisle.
Economy Class:
Avoid the last few rows, the curvature of the fuselage makes the seats tighter, and you are also closest to the lavatories and the galley.
Legend
| | |
| --- | --- |
| | Above average |
| | Mixed reviews |
| | Below average |
| | Beware |
| | Average seat |
Place cursor over a seat to view seat-specific comments.
| Cabin | # Seats | Pitch | Width |
| --- | --- | --- | --- |
| First | 8 | 83" | 22" |
| Business | 47 | 60" | 20.5" |
| Economy | 164 | 32" | 17.3" |
// include footer. show_footer( $printable ); ?>