Air New Zealand Air New Zealand
Boeing 777-200ER
(Suites)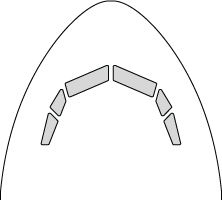 Comments
There are currently eight fuel efficient twin-engine Boeing 777-200ER jets in Air New Zealand's fleet.
All seats have
AVOD
(Audio Video On Demand) in-flight entertainment systems, for the ultimate in personalized entertainment. Power ports are in every Business Premier suite as well as each Premium Economy seat.
For its
Business Premier
product, Air New Zealand adopted Virgin Atlantic's pioneering Upper Class lie-flat bed. It is still one of the best Business Class seats in the world, featuring a bed that unfolds to be fully flat, and every seat has direct aisle access without requiring passengers to climb over anyone. This seat is also unique in that it has two surfaces, a softer and comfortable contoured side when used as a chair and a firmer side that provides better support for sleeping. Most passengers like the comfortable bed with only one seam, but often complain about the limited recline when in seat mode. The cabin crew will flip the chair forward into a bed and provide a cotton pillow, duvet and sleep sheet for Business Premier passengers. The design of the seat means that you must get up in order to switch between seat and bed mode. Passengers are seated at about 45 degrees away from the direction of travel, which may require some getting used to.
Note that the seating layout is not optimal for passengers traveling together in Business Premier. Consecutive rows are separated by high partitions between rows and suites across the aisle are too far apart for quiet conversations.
A small
Premium Economy
Class cabin provides seats with about six to eight inches of extra legroom.
Economy
Class has good legroom at 33 inches. However, seats in the second Coach cabin might have up to two inches less space than those in the first Coach cabin. Meal service is normally front to back, but may
reverse direction
for the second service if many passengers missed out on their first choice during the first service.
Legend
| | |
| --- | --- |
| | Above average |
| | Mixed reviews |
| | Below average |
| | Beware |
| | Average seat |
Place cursor over a seat to view seat-specific comments.
| Cabin | # Seats | Pitch | Width |
| --- | --- | --- | --- |
| Business Premier | 26 | 79.5" | 22" |
| Pacific Premium Economy | 18 | 39" | 17.8" |
| Pacific Economy | 269 | 31-33" | 17.5" |
// include footer. show_footer( $printable ); ?>